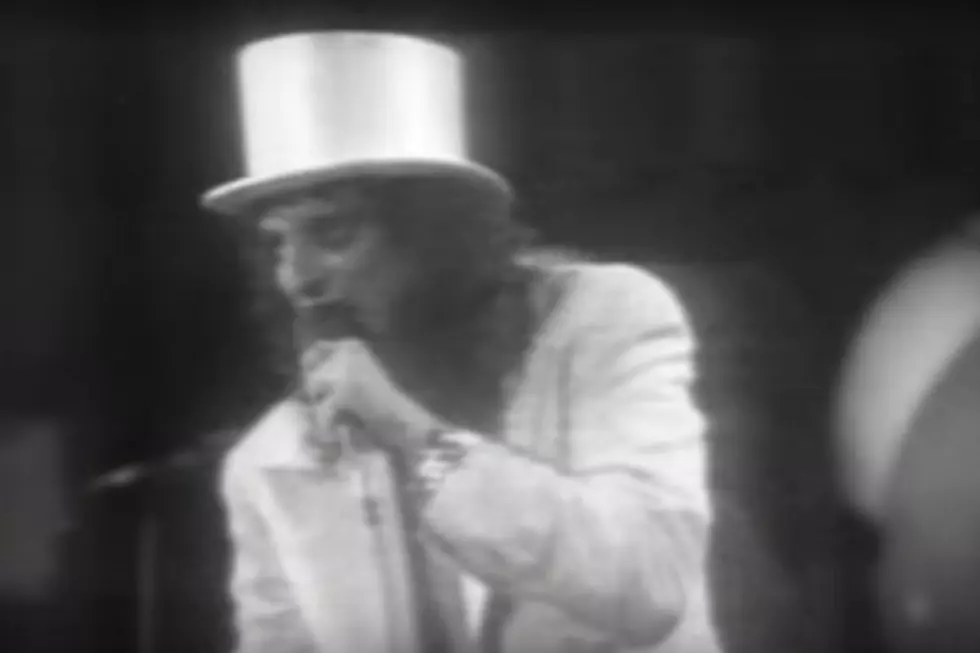 Why Alice Cooper's 'In Concert' Episode Was Cut Off in Cincinnati
YouTube
In the early '70s, when ABC was considering dipping its toe in the world of rock 'n' roll, the television network called upon music publisher and producer Don Kirshner. The American Broadcasting Company tapped the man who had previously helped bring rock and pop music to television, both in the form of NBC's sitcom The Monkees and CBS's animated The Archie Show. But this time, Kirshner was going to be involved in something a little more real.
The program was to be called In Concert, and the idea was just that – current and past music stars taped while performing "in concert" and later broadcast on ABC on Friday night (preempting usual time slot-holder The Dick Cavett Show). Kirshner, who was brought in as a producer by the network, was eager to offer live musicians a more desirable platform than what was presently available on TV.
"Today, if a major rock act wants to get on television, they go to the Dean Martin or the Flip Wilson Show," he told Billboard in November 1972. "With In Concert, it will be the first time major acts have been exposed in a time spot that has national recognition."
On Nov. 2, 1972, the program's producers arranged to have all of the acts perform show sets before the cameras (and an audience) at Hofstra University in Hempstead, N.Y. The footage would be edited for two 90-minute specials to air on Nov. 24 and Dec. 8.
Seeing as the Alice Cooper band was delivering one of the most dynamic visual performances in rock 'n' roll at the time, it's no wonder that the quintet's performance was chosen to lead In Concert's inaugural broadcast. The footage features songs and antics that were typical of the Coopers' concerts: "I'm Eighteen" and Cooper getting dragged by "police" to the stage, "Gutter Cat vs. the Jets" with Cooper teasing bassist Dennis Dunaway's hair with a switch blade, a staged fight between band members, "Killer" and the infamous gallows, as well as "School's Out" as a finale.
Watch Alice Cooper's Hofstra Concert
Although that's what people living in most parts of the country saw, fans in Cincinnati were denied the entire spectacle. That's because Lawrence H. Rogers II, owner of local ABC affiliate WKRC Channel 12, became incensed over what was being shown on his station. It's not clear how much Rogers saw of the Alice Cooper band's set, but at some point, he called in and directed WKRC to switch to a rerun of Rawhide. Rock fans, upset by the hasty switch, called in a bomb threat, picketed the station and sent in nasty letters. Channel 12 later rebroadcast the program, but with Alice Cooper performance removed.
Station manager Ro Grignon had to do some chaos control, later telling TV Guide that WKRC remained committed to rock performances: "In fact, we think they're going to be a smashing success. We simply found Alice Cooper a little tense."
The Cincinnati station wasn't the only one to make a fuss over the Cooper performance. An affiliate in Kingsport, Tenn., complained about the content of In Concert (although the first episode was shown in its entirety) and a Philadelphia station elected to wait until 1:30AM to put it on the air – perhaps with hopes that no one could complain if nobody watched the show.
Because of the fracas, ABC made the next In Concert installment – and future episodes – available to affiliates via a satellite preview, so that everyone would understand what they would be putting on the air. No one would have to endure a heavily mascaraed singer getting involved in fake street fights and enduring pretend execution if they didn't want to.
Despite the rocky start, the first episode of In Concert became a big hit for ABC, especially among viewers in their teens, 20s and 30s. The broadcast even beat out The Tonight Show With Johnny Carson among younger demographics. As a result, the network ordered up more installments of In Concert, which continued to air through 1975 (and was resurrected by ABC in the '90s).
Kirshner left his role with the show in mid-1973 to start a similar program over which he'd have more control (and also a role as host). The syndicated Don Kirshner's Rock Concert began airing in September 1973 and lasted until 1981. During its run, the program featured a host of big-name rock acts – including, of course, Alice Cooper.
 Alice Cooper Albums Ranked