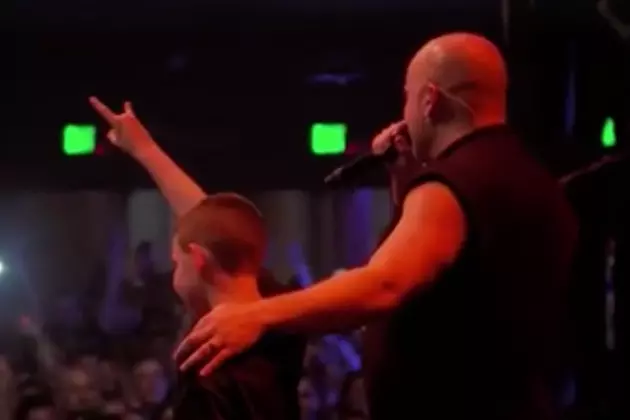 Disturbed's David Draiman Gives 12-Year-Old First Concert Memory
Facebook: Disturbed
We've all been there -- that thrill of seeing your first concert! There's that jolt of energy entering the venue for the first time, feeling as if it's a rite of passage. Then you get that undeniable vibe of the audience reacting to the performer, and if it's a good show you just might see some people lose their minds over the experience. But imagine your reaction if the very first show you were allowed to attend, the singer invited you up onstage.
During a stop in Houston, Disturbed's David Draiman left a lasting impression on a youngster who was celebrating his twelfth birthday with his first ever concert. As can be seen, the kid's parents got him right up front and when young Logan caught the attention of Draiman, the singer invited him up onstage.
As the crowd chants Logan's name, Draiman asks him how old he is and gets a chuckle when the kid says he's 11 turning 12. All of the band members left their positions onstage and posed with Logan for a photo. The kid also earns some props from the crowd flashing the devil horns as Draiman continues to speak. "Somebody taught the boy well, who's the parent," asks the singer, before getting the crowd to give Logan's mother a round of applause. Before returning to the audience, the kid was presented with some Disturbed drumsticks from the group.
Draiman then added, "I love that Disturbed concerts have suddenly become family friendly. But you know what, there may be a little bit of profanity that goes on here, there may be some heavy sorts of subject matter that are discussed in these songs, but I don't find that offensive do you? I think that war and terrorism and pain and suffering and theft and greed are far more offensive than anything you're going to see here tonight. Turn on the news for five minutes and I guarantee you you'll find something that is offensive. Here, we're all about everyone leaving this building feeling stronger than they did when they came in." Watch it all play out in the Facebook video below.
What was your first concert memory? Head to the comments section of this post to discuss what your first show was and anything you remember from the gig.
Disturbed's David Draiman Talks "Sound of Silence" Cover + More
100 Metal Facts You May Not Know