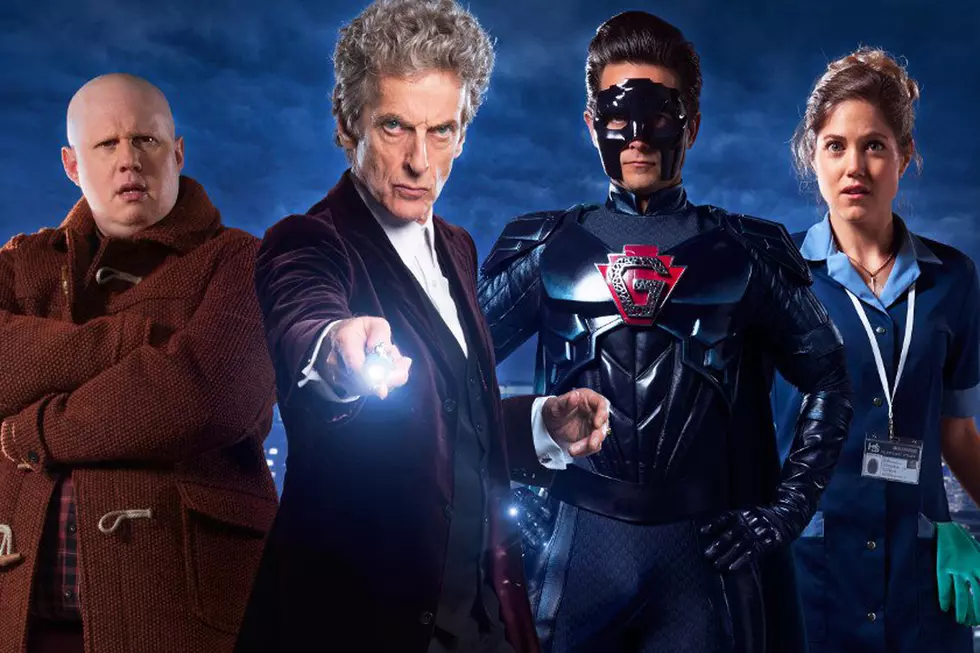 'Doctor Who' Makes a Super Return in First 2016 Christmas Special Clip
BBC
Christmas is still a few weeks away, but Doctor Who would never sully your right to sneak an early peek. Celebrate the holidays in November with a first look at 2016 Doctor Who Christmas Special "The Return of Doctor Mysterio," featuring a very super Justin Chatwin.
BBC America released a first look at the highly-anticipated Christmas Special as part of BBC One's telethon for Children in Need, offering our first look at the superhero-style adventure. In it, Justin Chatwin's heroic figure makes a dramatic entrance to rescue the Doctor, as outlined in the full synopsis:
The Doctor, played by Peter Capaldi, teams up with an investigative journalist, played by Charity Wakefield (Wolf Hall, The Player) and a superhero to save New York from a deadly alien threat. Matt Lucas (Bridesmaids, Little Britain) returns to the series as Nardole and Justin Chatwin (Orphan Black, Shameless) joins the cast in a guest starring role as Grant.
Also worth noting is that Fathom Events will bring Doctor Who: The Return of Doctor Mysterio to select nationwide cinemas on December 27 and 29, along with their own special features:
The event will include the full 60-minute special plus two exclusive bonus features, A New Kind of Superhero, giving a special inside look at Doctor Who's concept of a modern superhero, and a special Christmas Doctor Who Extra, showing the making of this year's special, with appearances by stars Peter Capaldi and Matt Lucas, and showrunner and executive producer Steven Moffat.
You can check out the first footage below, and stay tuned for more from Doctor Who's upcoming Christmas Special, and the 2017 season beyond.
Check Out 100 TV Facts You May Not Know!