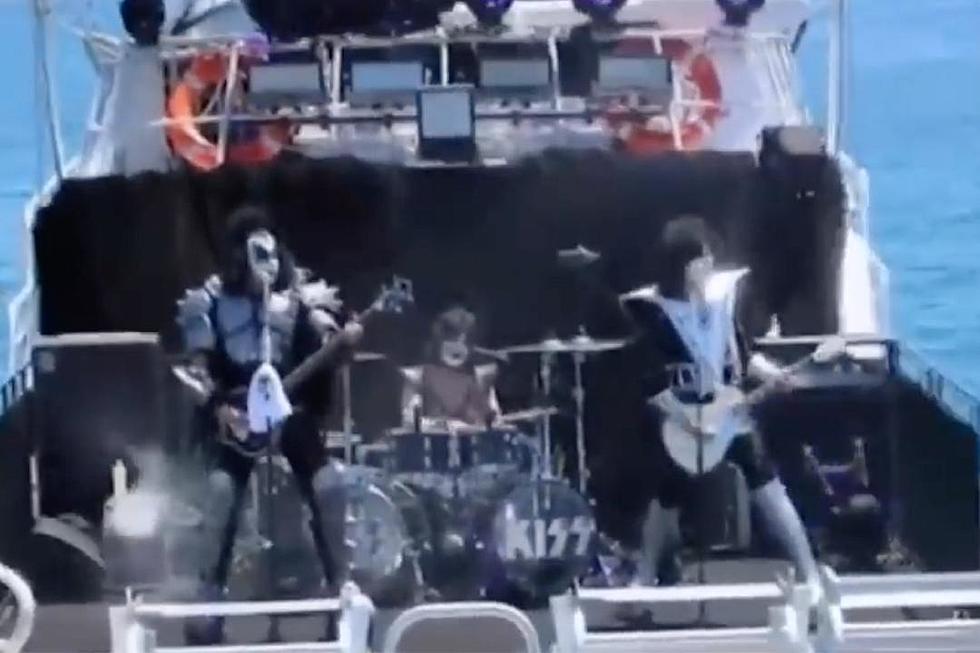 KISS Stage Mid-Sea Concert for Sharks but None Reportedly Attend
YouTube: KISS ARMY ROCKS
In Australia this week, KISS put on a mid-sea concert for great white sharks and about eight human fans as part of an Airbnb promotion. Guitarist and co-vocalist Paul Stanley was absent due to illness, but the band's remaining trio proceeded to rock the boat off Port Lincoln on Monday (Nov. 18).
In partnership with Adventure Bay Charters, the maritime gig was launched to christen the online lodging marketplace's new Animal Experiences category. However, according to Billboard, no sharks emerged for the performance planned to entice the creatures using the low-frequency sounds of KISS' classic rock.
Watch the video — including footage of the band performing "Calling Dr. Love" aboard the boat — down toward the bottom of this post.
"I would say it's one of the most unusual, eclectic things we ever did, that's for sure," drummer Eric Singer told 10 News First of the concert and boat ride. "It was kind of throwing us around a little bit, even though we were in a cove. There was some sea lions jumping around and stuff like that."
Sharks or none, local members of the KISS Army were excited about the rare opportunity. "To score one of the tickets, it was a surreal moment," fan Mark Pannenburg explained. "It was, for me, just like Willy Wonka and the Chocolate Factory and opening up that Golden Ticket. To not only go and see KISS in an extremely intimate experience out on the water but to include the shark experience with that is something pretty exciting."
The performance was made even rarer by the fact that KISS were forced to cancel their Australian tour planned after it. Last week, the group revealed that Stanley was suffering complications from a recent bout of the flu. But Singer, along with rockers Gene Simmons and Tommy Thayer, promised they would still put on the mid-sea show as a trio.
KISS Concert For White Sharks In Australia News Report - Nov. 18, 2019
See KISS in Top 50 Hard Rock + Metal Live Acts of All Time