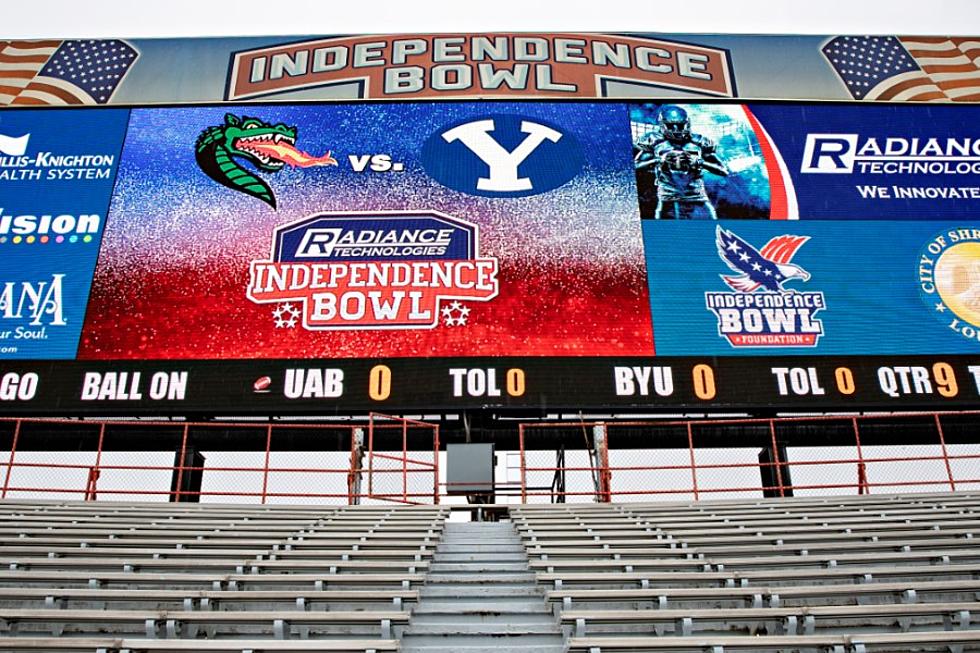 Loyal Shreveport Residents Fire Back at BYU Fan's Insult of City
getty images
No one knows if Adam Gibby meant to stir up the controversy that his post-Independence  Bowl review of Shreveport caused. But one thing is for certain. He didn't make any friends around these parts.
Gibby, who followed his BYU Cougars to this year's Independence Bowl, wrote a scathing review of the city following the Cougars upset loss to University of Alabama at Birmingham. Here's some of what Gibby wrote:
When I arrived in Shreveport about two hours before kickoff, I was shocked to see how run down the city was. While the hospitality of the people was great, the honest truth and reality was that on my way to the stadium, I saw more businesses for bail bonds and legal services than I did anything else. Every business had their windows barred up and even the local jail appeared to be run down.
When I arrived to the stadium parking lot, the baseball stadium right next to stadium looked like something out of World War Z or I am Legend. Windows broken out, vines growing up the walls and graffiti all over the place.
It may very well have been the most run down destination that the Cougars have ever played in.
Almost immediately folks all over the area came to the city's defense. And perhaps the most articulate in that defense was veteran Shreveport sports broadcaster and pundit Charlie Cavell:
This is a column by a guy, a fan, not a reporter or columnist, who stopped in for two hours before the game on a miserable weather day in Shreveport. 
He has some truths and some embellishments, but not the thoughts and opinions of those directly affiliated with BYU football, like Head Coach Kalani Sitake. At every press conference I attended, Coach Sitake had nothing but praise for the Indy Bowl, its representatives and the area.
Does the Fair Grounds and the surrounding area need better aesthetics? Absolutely. Is Shreveport like going to Orlando? Of course not. But it's no worse than going to any other small market bowl. 
Please, don't mistake what I'm saying as a defense of administrations, past or present. However, I am defending the bowl game and those who make it a great experience for the teams and fans who come here. 
I'm wondering if (Gibby's) column would have been penned had the 13th ranked Cougars won the game?
I didn't see anything (like this) from the UAB side.
19 Facts About Shreveport's Centenary College Football Program
Centenary College in Shreveport was once home to one of the biggest college football powerhouse programs in the country.
Notable Draft Picks Who Played In The Independence Bowl
Players info will include their school, the year they played in the Independence Bowl, and their NFL Draft position.
Bizarre Sports You Have to Check Out, Part 2