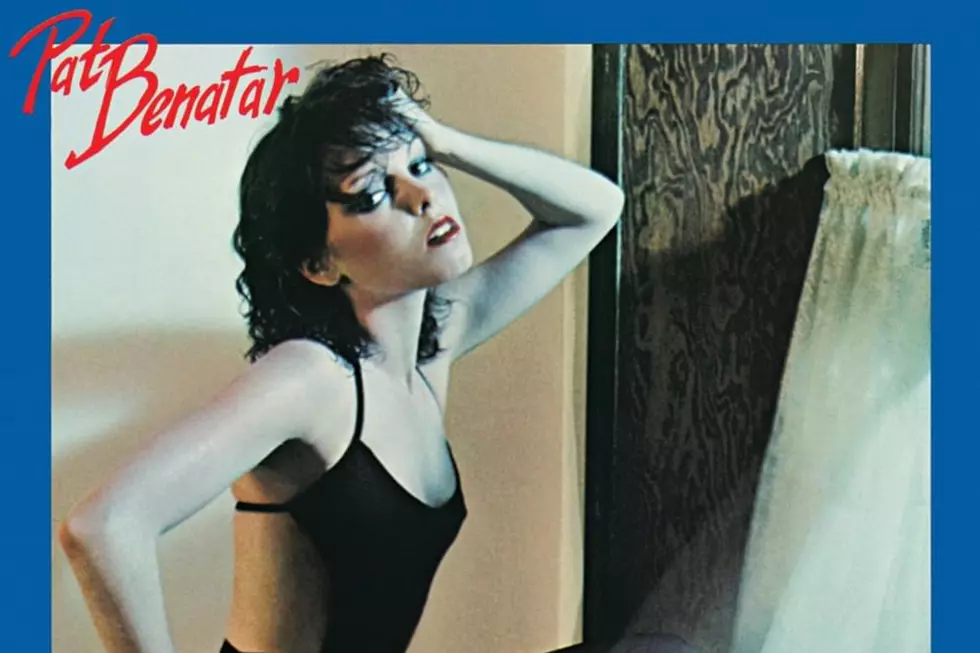 40 Years Ago: Pat Benatar's Debut Album Goes From 'Disaster' to Success
Chrysalis
On Aug. 27, 1979, Pat Benatar released her debut album, In the Heat of the Night. The LP launched the singer's career, helping her to become one of the biggest stars of the '80s. Amazingly, it almost didn't see the light of day.
The singer's path to stardom came in an unlikely way. After initially planning to become a schoolteacher, the young Patricia Mae Andrzejewsk (as she was then called) began dreaming of music stardom. She had always had a good voice, performing in her school choir. One former teacher even called a meeting with her parents just to make sure they understood the scope of their daughter's talent.
Her last name changed to Benatar after a 1972 marriage, and not long afterward the fledgling performer scored a regular gig singing at the Catch a Rising Star comedy club in New York. These performances helped Benatar cut her teeth, while also allowing her freedom to try new things. The singer dabbled in cabaret and even performed in an off-Broadway rock musical, all while working to develop her sound.
As the buzz around Benatar's performances began to grow, music executives started checking out her shows. She eventually signed a deal with Chrysalis Records.
In her 2010 memoir, Between a Heart and a Rock Place, Benatar described the first meeting with her new label. "I explained what I wanted to accomplish, trying to describe for them the hard-rock sound that I was working to articulate but had yet to achieve," she recalled. "The thought of having a female front person who could compete with male rockers, filling arenas, selling massive amounts of records, was unheard of."
Conceptualizing that groundbreaking sound was one thing; bringing it to life was another. The label's first course was to assemble some of New York's best session musicians to help their new artist record her debut album. On the surface, this seemed like a wise move, but Benatar described the sessions as "a disaster."
"Everything was wrong," she noted. "The tracks were played technically well, but they had no soul, no passion. The recordings were a fiasco. I cried for days, saying that I was finished before I'd even started."
Listen to Pat Benatar's 'I Need a Lover'
Chrysalis decided to change course, bringing in producer Mike Chapman, who'd previously worked with Blondie and the Knack. The move proved monumental. "He got it," Benatar said of Champan. "He knew exactly what I had been talking about" in terms of musical direction.
At Chapman's suggestion, guitarist Neil "Spyder" Giraldo was brought on board. Benatar sensed a connection with the musician the second he arrived.
"From the moment we first started collaborating, I knew Spyder was a visionary," Benatar remarked. "His mind never stopped. He was constantly experimenting and trying new things, yet he knew precisely what needed to be pushed farther and what needed to be discarded. It was exactly what I had been missing."
The chemistry extended beyond music. Benatar would divorce her first husband and later marry Giraldo.
With a new set of creative minds surrounding her, Benatar's debut album began to click. "Heartbreaker" immediately appeared as a stand-out track. "It was a blistering recording, setting the tone for the entire record," Benatar recalled in her memoir.
Elsewhere, the album featured three songs penned by Chapman and his writing partner, Nicky Chinn: "If You Think You Know How to Love Me," "No You Don't" and the title track, "In the Heat of the Night." A cover of John Cougar Mellencamp's "I Need a Lover," a track Benatar says she was "instantly drawn to," also made the LP.
Listen to Pat Benatar's 'Heartbreaker'
Still, the singer viewed "Heartbreaker" as the album's defining song. She hoped to make it the lead single and was upset with record executives when she didn't get her way. "Chrysalis lived in fear of disco's popularity and wouldn't release ["Heartbreaker"], Benatar asserted in her autobiography.
Instead, the label went with "I Need a Lover" and "If You Think You Know How to Love Me" as the first two singles. Though they received some radio airplay, the tracks failed to make a major commercial impact. Backs against the wall, the label agreed to release "Heartbreaker."
The song proved to be Benatar's breakthrough single, peaking at No. 23 on the Billboard Hot 100 chart. The track also proved to have impressive longevity, spending more than four months on the U.S. chart.
Decades later, the singer referred to the track as the most important of her career. "I love 'Heartbreaker,'" Benatar declared during a 2014 interview with NPR. "It still works to me. The sentiment is still timely and it just works."
The success of "Heartbreaker" propelled In the Heat of the Night's sales. In March 1980, seven months after its initial release, the album hit No. 12, its high-water mark on the sales chart. In total, the LP sold more than a million copies in the U.S., catapulting Benatar into a decade of music dominance.
See the Top 100 Albums of the '80s