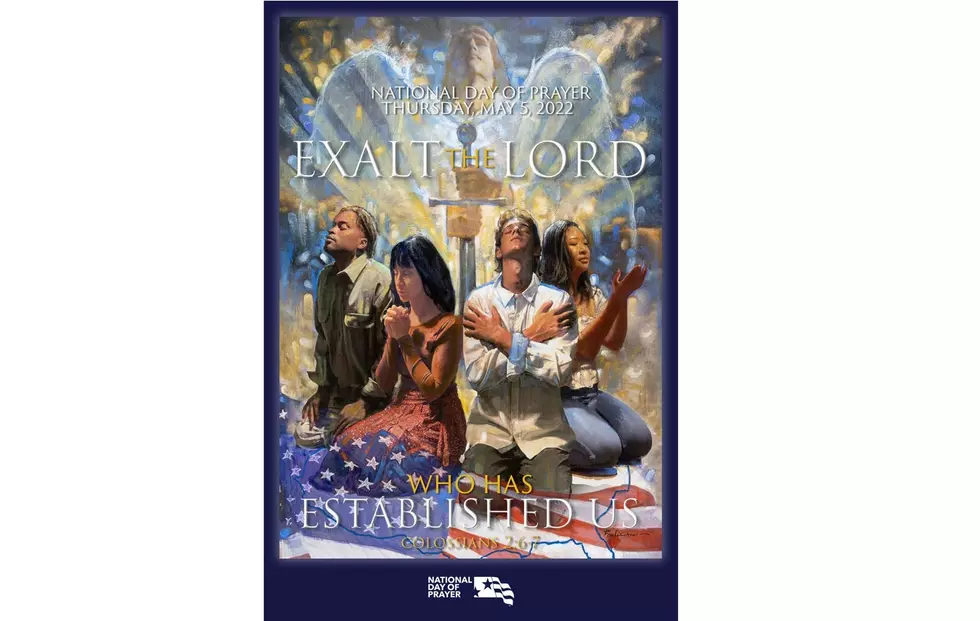 Can America Be Saved With Prayer? We'll Find Out Thursday, May 5
From nationaldayofprayer.org
Let's face it America.  We are living through some very troubled times and if this country doesn't bow to God the Father, we are destined for destruction.
With that sobering thought in mind, hopefully, you'll join the millions of American Christians and spend some time in prayer on the annual "National Day of Prayer" next Thursday, May 5.
According to NationalDayofPrayer.org:
The National Day of Prayer is an annual observance held on the first Thursday of May, inviting people of all faiths to pray for the nation.

Our Task Force is a privately funded organization whose purpose is to encourage participation on the National Day of Prayer. It exists to communicate with every individual the need for personal repentance and prayer, to create appropriate materials, and to mobilize the Christian community to intercede for America's leaders and its families.
The theme for this year's 2022 National Day of Prayer is "Exalt the Lord Who Has Established Us" and it's this author's estimation that if we don't understand the importance and practice this statement, our country is certainly doomed, and sooner than later.
You can actually watch the National Day of Prayer activities live from Washington D.C. here at NationalDayofPrayer.org
And locally, the Bossier Sheriff's Department reminds us that a number of churches will hold observances of National Day of Prayer including:
Benton 
Benton United Methodist, 4615 Palmetto, 10:00 a.m.
Bossier City
First Baptist Bossier, 28210 East Texas in Bossier City, (Chapel), from 9:00 am until 12:00 pm
New Beginning Missionary Baptist Church, 2218 Barksdale Boulevard in Bossier City, Begins at 6:00 pm
Barksdale Baptist, 1714 Jimmie Davis Highway in Bossier City, From 6:00 pm to 7:00 pm
Bellaire Baptist, 1210 Bellaire Blvd. (Main Campus), Begins at 11:30 am
Haughton
Central Assembly of God, 700 Highway 80, 12:00 pm
First Baptist Haughton, 105 E. Washington Avenue in Haughton, (Fellowship Hall), begins at 11:00 am
To read this year's full prayer, just go
HERE.
Unbelievable Photos Of How Much Shreveport/Bossier Has Changed Since 2007
The scenery of Shreveport and Bossier City has changed incredibly since 2007 and these pictures show some of the biggest changes.
Top 10 Places For the Absolute Best Fried Fish in Shreveport/Bossier