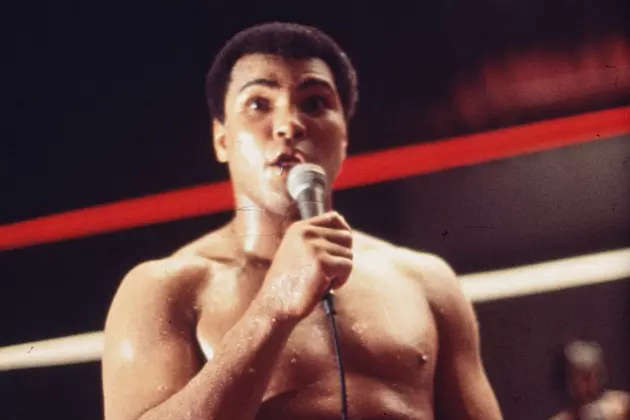 Rockers React: Muhammad Ali Dead at 74
Keystone, Hulton Archive, Getty Images
There's sad news to report as boxing legend and cultural icon Muhammad Ali has passed away at the age of 74. Ali, who had suffered from Parkinson's Disease, was taken to an Arizona hospital earlier this week while dealing with respiratory issues. The champ died Friday night (June 3).
The boxer, born Cassius Clay Jr., was one of the most famous athletes ever, three times serving as the heavyweight boxing champion. As one of the sport's larger than life athletes, Ali was known for his poetic trash talking style as well, once proclaiming that he could "float like a butterfly and sting like a bee." In addition to being the heavyweight champ, Ali also won the 1960 Olympic gold medal. Among his most well known bouts include the "Rumble in the Jungle" in which he regained his title against George Foreman and the "Thrilla in Manilla" in which he squared off against Joe Frazier for the third time. Ali had 61 fights, winning 56 and 37 of those by knockout.
But as well known as he was for his exploits inside the ring, he was equally as impressive an individual outside the ring. He was a civil rights activist and made headlines as a conscientious objector to the war in Vietnam. He was deprived of his title in 1967 because of his Muslim religious beliefs and his stance on the war in Southeast Asia, and was arrested for draft evasion. Ali took his case to the Supreme Court and eventually his conviction was overturned.
Ali was awarded the Presidential Medal of Freedom in 2005 and in 1999, the BBC proclaimed Ali to be the Sports Personality of the Century. Simply put, the boxer transcended sport and entertainment and his impact was felt by many, including a number of musicians in the rock and metal community who turned to social media to express their thoughts on the passing of "the greatest of all-time." Check out some of the comments below and we'll continue to add as more tributes come in.
Rockers We've Lost in 2016