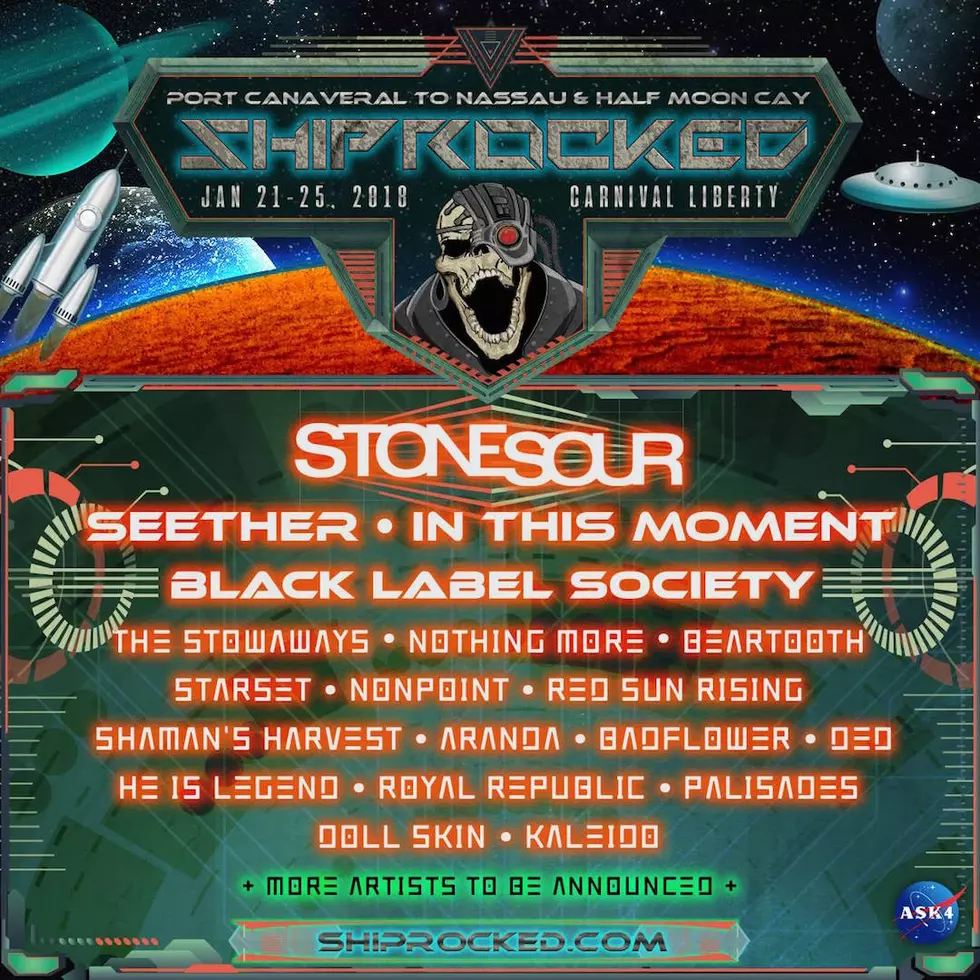 Stone Sour, Seether + In This Moment Lead 2018 ShipRocked Lineup
ShipRocked
The annual ShipRocked cruise will enjoy its ninth excursion in 2018 and while the adventure will certainly be seafaring, the event has taken on a cosmic theme preparing for an "interstellar voyage through the Carribean Cosmos" between Jan. 21 and 25. The ship will be rocking, but not just from the waves as Stone Sour, Seether and In This Moment lead the lineup.
The 2018 billing leans heavy on hard rock rather than metal, with additional performances coming from Black Label Society, The Stowaways, Nothing More, Beartooth, Starset, Nonpoint, Red Sun Rising, Shaman's Harvest, Aranda, Badflower, Ded, He Is Legend, Royal Republic, Palisades, Doll Skin and Kaleido. More artist announcements will be coming soon.
"Finally. We've been trying to make this happen for a long time. Now Stone Sour is joining the ShipRocked party - and WE HOPE YOU'RE ALL AS EXCITED AS WE ARE!! There's gonna be music, excitement, craziness and maybe - JUST MAYBE.. .somebody's goin' to get naked. Come join us on ShipRocked," exclaimed Corey Taylor. Sharing the same enthusiasm, Seether's Shaun Morgan stated, "We're really looking forward to being back on ShipRocked! We had a blast in 2016 and we intend to go even bigger on the next one!"
Regarding the non musical portion of the trip, attendees will board the luxury starliner USS Carnival Liberty, departing from Port Canaveral in Florida, setting sail for Nassau and Half Moon Cay. There will also be activities like a belly flop competition, artist meet and greets, a drunk spelling bee, rock 'n' roll bingo and more.
Pre-booked guests can begin selecting their cabins now and those looking to attend ShipRocked 2018 can reserve a cabin of their own from the remaining choices starting June 20 at 12N ET. Visit the ShipRocked website for further details and booking information.
Best Rock Albums of 2017 (So Far)
Stone Sour's Corey Taylor Plays 'Wikipedia: Fact or Fiction?'