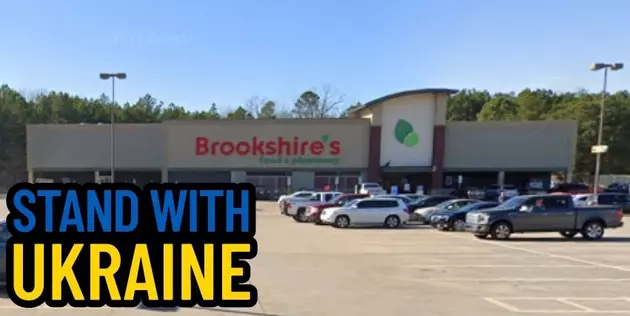 You Won't Find Russian Products on Brookshire's Shelves Anymore
Via Google Maps, Getty Images
Companies All Around the World are Standing With Ukraine.
The Russia Ukraine conflict has consumed us all. Many of us have wondered how we can support Ukraine. It's safe to say that we will find unique ways to help I recently saw one genius idea float around on Facebook, rent an Airbnb.
Some People Have Started Booking Airbnb's in Ukraine.
No, these people don't actually plan on visiting one of the most dangerous places in the world right now, people from all over the world are finding ways to put money in people's accounts and this is a unique way to get money directly to people who need it and to people who are housing refugees.
How are People in Shreveport Bossier Standing With Ukraine?
Cheers to Ono's Hawaiian Food Truck for making Ukrainian Inspired dishes and donating all the proceeds to Ukrainian shelters.
An East Texas Grocery Company is Setting the Standard for Grocery Stores All Over America.
Brookshire's Grocery Company, out of Tyler, Texas, recently announced that you won't find any Russian products on their store shelves. Brookshire's grocery stores stand in solidarity with the Ukrainian people who continue to be threatened and killed by Russia's military machine and this is why we love them.
"In support of the Ukrainian people, Brookshire Grocery Company will continue to keep our shelves free of Russian products. Our company supports and prays for the people of Ukraine."


15 Ways You Can Help People in Ukraine Right Now
As Americans watch events unfold in Ukraine, many wonder how they can help. Below is a list of organizations responding to the crisis in Ukraine along with information on how you can support their various missions.
Historical Shreveport Home Fully Renovated for Sale