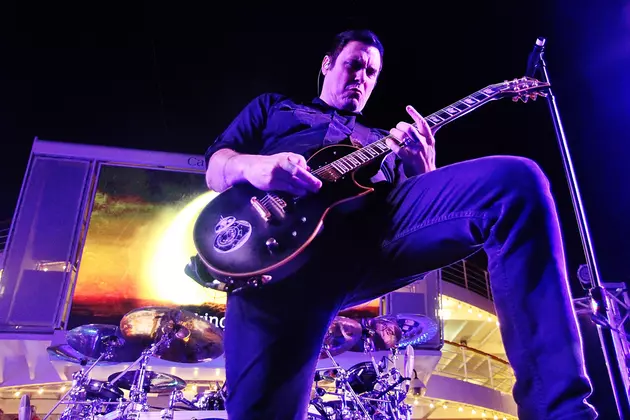 Breaking Benjamin Members Travel by Sea to Europe for Tour
Liz Ramanand, Loudwire
There are many pitfalls when it comes to touring, and a fear of flying is not something that's conducive for bands, especially when it comes to those who hope to enjoy international stardom. But there are ways around it, as Breaking Benjamin's Ben Burnley recently revealed to Team Rock Radio Dewsbury.
The singer says that he and drummer Shaun Foist traveled by sea to their gigs in the U.K. and Europe in order to avoid dealing with air travel. While music cruises are all the rage these days, it's rare you see musicians using ships as a mode of travel to countries so that they can tour just because of the amount of time involved, but Burnley and Foist took a nine-day trip from the U.S. to the U.K.
"We took the Queen Mary 2 over here," said Burnley. "And it took about nine days. That's how much we love our fans. It was basically a floating seniors center, but we made the most of it." He went on to add, "We had fun other than the bad weather. We're big on the bingo scene and we just made it full-contact bingo."
As for his decision not to fly, the vocalist stated, "It's just something I'm really not comfortable with. I'd rather die some other way." The band is currently touring through Europe, with plans to return stateside later this summer for shows with Disturbed, Alter Bridge and Saint Asonia. See their current itinerary here.
See How Old Ben Burnley + Other Rock Stars Are