Get Dad A Dopp: What All Traveling Men Should Carry [PHOTOS]
Dopp Kitt from gentsupply.com
I found this great article at artofmanliness.com on how to pack a dopp kit and had to share.  So many "men" today don't know jack about actually being a man.  Read more after the jump on how to buy and pack a dopp for Dad.
The History of the Dopp Kit
Charles Doppelt, a German leather-goods maker from Chicago, invented the Dopp kit during the early 1900′s. The small pouches became known as Dopps, in recognition of its creator. Doppelt scored a contract with the US Army during WWII to provide the toiletry pouches to millions of American GIs. The bags became a hit, and demand for Dopp kits soared.
My grandfather had one, and my dad had his tucked in the cabinet.  While my grandfather's was more of a shaving kit alone, my dad's had everything, including shaving supplies, from toothache meds to
Building your Dopp Kit
The Bag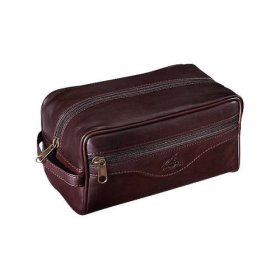 The first thing you'll need is the bag. These aren't difficult to find. You can get a nylon travel bag for under $5 at any big box store like Target or Wal-Mart. They'll get the job done.
But if you want a Dopp kit with class, leather is the only way to go. Sure, it will cost you more, but it will last forever, age nicely, and become something you enjoy owning and toting around. It's something you'll be able to pass down to your sons and grandsons, along with the stories of the places you took it. You can find a nice leather Dopp kit at most department stores. You can also buy nice affordable leather Dopp kit for $35 online. If you're lucky, you can also score a vintage leather Dopp bag on eBay.
The Supplies
After you have your bag, it's time to fill it up with the stuff you need to keep you well groomed when traveling.
Travel bottle of shampoo
Bar of your favorite soap
Deodorant
Toothbrush, Toothpaste, Floss
Shaving supplies: razor, brush, and cream
Nail clippers
Band Aids
Safety Pins
Aspirin or Tylenol
Lint Roller
$20 bill
Extra pair of contact lenses
Small sewing kit
Pair of small scissors
Pocket knife (remove when flying)
While most of the items you may see in the image are modern, I pack a safety razor, boars hair shaving brush, shaving stone, and a few other things not pictured.  The dopp kit is an essential part of knowing that when you travel, you're covered by most things that come up.
What do you carry in your Dopp kit? Did we miss anything that you think is essential to have? Drop a line in the comment box and let us know.