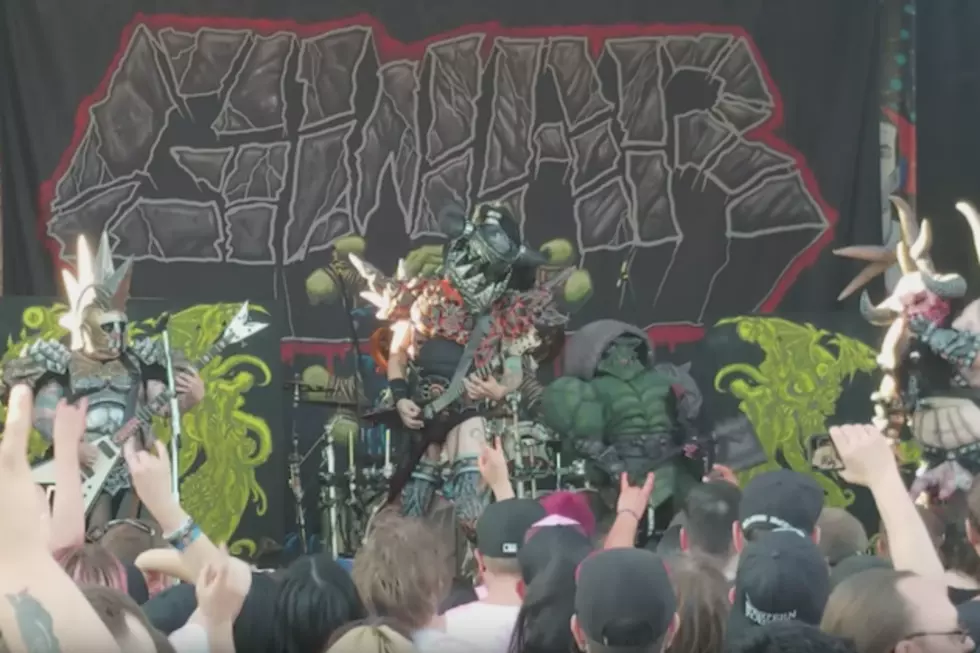 GWAR Debut New Song 'F–k This Place' Live in Seattle
YouTube: Michael Morris
Attention Scumdogs! Lords and masters GWAR have been spilling blood across Warped Tour stages since the iconic summer tour kicked off last Friday (June 16) in Seattle. To coincide with the tour kickoff, the group announced the title of their new album, Blood of Gods, and debuted the first new song off this next slab of music, "F--k This Place," live.
This is a watershed moment in GWAR history as this is the first new piece of material since the death of frontman Oderus Urungus (Dave Brockie) in 2014. With Blothar now in command, he informed the crowd that this new song was dedicated to "the greatest rock 'n' roll singer to ever live" and the band launched into "F--k This Place" in tribute to their fallen bandmate. The title immediately calls to mind the lyric in "Lust in Space" and musically, the song keeps to what GWAR have been doing throughout the new millennium, injecting punky bits of enthusiasm between metal-bound riffs.
With the band on this year's Warped Tour (dates here), the annual GWAR-B-Q is has been postponed until 2018, but fans still have plenty to stay excited for in addition to the new record. In late March, it was announced that the intergalactic metal overlords would be releasing their very own comic, GWAR: Orgasmageddon, with the band signing on as co-writers and contributors.
In other news, GWAR called out Kathy Griffin earlier this month over her controversial photo shoot which depicted her holding up a severed head of what appeared to be President Trump. Bassist Beefcake the Mighty took aim at the comedienne, slamming her for stealing the band's bit.
10 Hilarious GWAR Moments