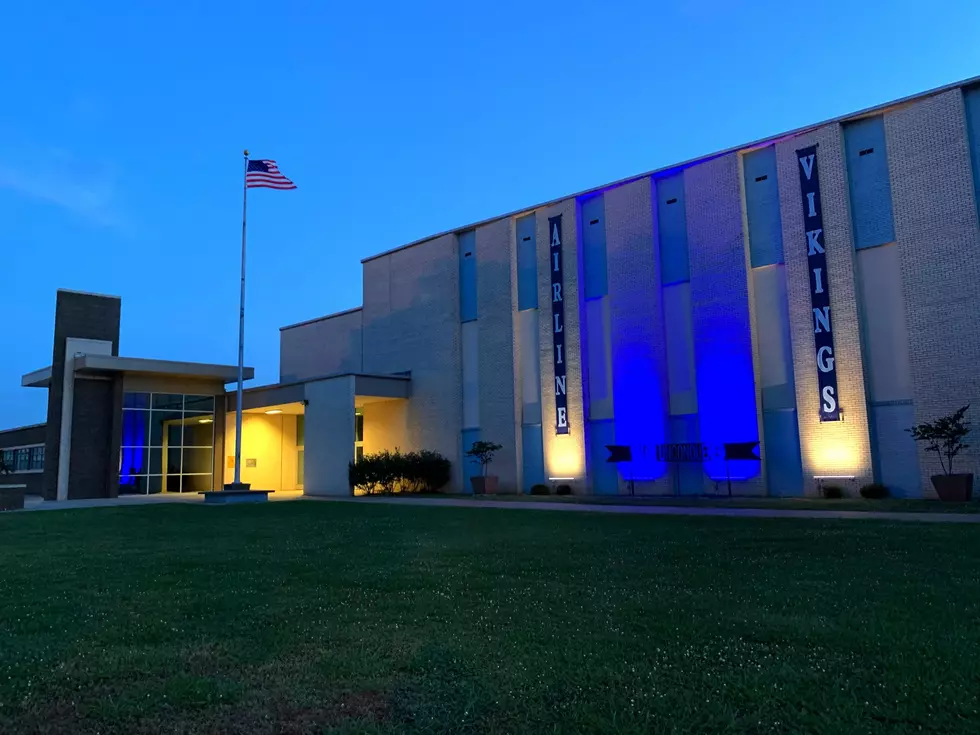 Parents Mad at Bossier School for Confiscating Winter Clothing
AHS Facebook
Parents of Airline High Schools students are upset at the fact that school officials chose to confiscate sweatshirts and coats from students on one of the coldest, wettest days of the year.
Social media posts are slamming school officials for leaving kids in the cold.
Carla Collins is with Shesus Christiana and Marie Collins.

Airline High School LITERALLY FELT IT NECESSARY TO SEND STUDENTS HOME WITHOUT THE JACKETS THEY LEFT HOME WITH IN THIS COLD RAINY 30 DEGREE WEATHER!!

NOW … HAD A PARENT DONE THIS Child Protective Services WOULD HAVE BEEN CALLED?!??

EXCEPTIONS ARE ALWAYS MADE TO THE RULES

YES .. I know about the DRESS CODE but in AUGUST .. NO ONE and I do mean NO ONE could have predicted this weather and if so they MAYBE the DRESS-CODE should be REVISED when dealing with INCLEMENT WEATHER SUCH AS TODAY!!!

THE VERY PERSONS TAKING THE JACKETS AWAY WERE WEARING THE EXACT SAME TYPE OF CLOTHING THEY ARE TAKING AWAY!!

IT'S THE ARROGANCE FOR ME … but I digress

ALL I WAS TRYING TO DO IS OFFER SOME

TYPE OF RESOLVE FOR ALL PARTIES BUT WHEN YOU HAVE SOME ADMINS that INSIT on doing THIS TO CHILDREN because of THE RULES …. yeah it's NOT OK!!!

BY THE WAY … AUNTIE CADDO-BOSSIER & BEYOND is STILL waiting on a CALLBACK after their "MEETING"

guess I'll go watch this full can of paint dry
Another post by Darris Gilliam:
However, Bossier School officials said that students and parents have been warned repeatedly that clothing not appoved will not be allowed at the school.
Airline Principal Justin James released the following statement in response to parents' reactions.
"Dress code violations have been a consistent problem and, in response, an announcement was made Tuesday that students who wore hoodies to school would have them taken. Hoodies have not been allowed at Airline for a number of years because they can pose a safety concern and the majority of students wearing them had been warned before. Was the timing right to take them yesterday? Perhaps not, but the school has provided sweatshirts in the past and continues to provide alternative outerwear. Parents can come to Airline to retrieve their child's hoodie and several did at the end of school yesterday.  Students can also pick up their outerwear after school today."

 Justin James

Principal, Airline High School
Sonja Bailes, Bossier Parish Schools Public Relations Liason, told KEEL News on Thursday morning:
Also, as a follow-up, 42 hoodies were taken yesterday; not hundreds as unofficial reports may have indicated.
She also provided a link to the Airline High School dress code.
Top 10 High Schools in Louisiana
There are some new schools to make the list.
Checkout the Latest Bossier Cleanup
Dozens showed up to help clean up all around Bossier City